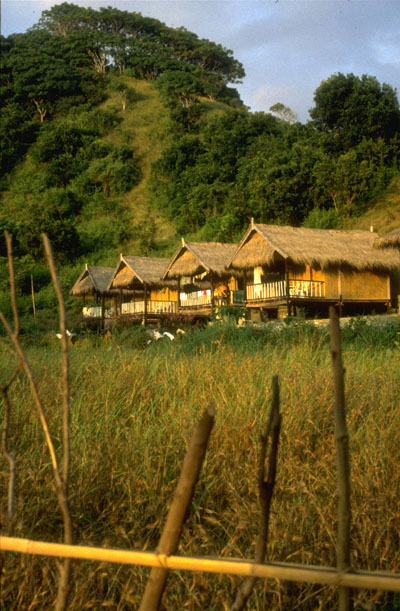 Full Name: Bali
Area: 5,620 sq km
Population: 3M
Time Zone: GMT/UTC +8 ()
Languages: Indonesian (official)
English (other); spoken in tourist areas
Currency: Rupiah (Rp)
Electricity: 127/230V 50HzHz
About
Rich Balinese culture and luscious tropical gardens, that's what Bali is most known for. This island of flowers, temples and friendly people is considered a real treasure by travelers worldwide.
The island of Bali is part of the Republic of Indonesia, the largest archipelago in the world with almost 20,000 islands. But despite being close to paradise, recent terrorism attacks here and in other areas of Indonesia have stifled western tourism rather dramatically.

How to get there

By Air
Most international visitors arrive by air, either directly or via Jakarta. There are also direct flights to Jakarta and Bali from numerous American and European capitals and selected Australian cities. For connecting flights from the US, it is often via South East Asia, particularly, Japan, Korea, Taiwan or Hong Kong. Bali is well connected to a greater part of Indonesia and has direct domestic flights to the neighboring islands of Java and Lombok and everyday.
By Land
From Ngurah Rai International Airport, Indonesia's major airport, taxi cabs are readily available. One can opt for either a fixed-rate fare through taxi counters stationed just outside the airport complex or hail a metered taxi outside. If tight on budget, one great technique to save is to get a taxi from the airport to Bemo(minibus) Corner in Kuta (2.5 km from the airport) for a fixed rate and then get a metered taxi or a chartered bemo to a more distant destination. There are also a lot of tourists who prefer to walk up to Kuta while strolling along the nearby seashores.
By Water
Boat and bus combination tickets between Denpasar and Javanese cities can be purchased in some establishments in Kuta. Ferry shuttles between the western Balinese port of Gilimanuk and Ketapang in eastern Java are also available.  Ferries from the eastern Balinese port of Padangbai and on the western coast of Lombok (Lembar Port) depart every few hours round-the-clock. Inter-island ferries are also available regularly.
Getting Around
The main forms of public transport in Bali are taxis, buses and bemos that run set routes within or between towns. If you want your own transport, you can hire a bemo or rent a car, motorcycle or bicycle. All transportations are Left Hand Drive (LHD) and horns are used a lot, especially during traffic and rush hours. Tourist shuttle buses, running between the major tourist centres, are more expensive than public transport but are also more comfortable and convenient.

Where to stay (top choices)
Villa De Daun
Secretly situated in the heart of the busy Kuta district, Villa de Daun is a rendezvous for urban junkies and nature lovers (or both). Easily accessible yet surprisingly private, Villa de Daun is jampacked with a wide array of choices from entertainment to shopping to dining experiences.
Amenities include private swimming pools, coffee shop, hot and cold shower, outdoor dining facilities, mini bar, complete home entertainment system and safety deposit boxes.
165-371 USD/day
Sepir Private Villa
Jimbaran's pride, Sepir Private Villa and Spa spells luxury and convenience. Strategically, one would not spend more than 15 minutes to drive to International Ngurah Rai Airport, to unwind to  Bali Golf and Country Club, or to go to Jimaran fish market.
With cottages inspired by classic Balinese Architecture, Sepir is known for it's body massage and spa treats for guests. That is on top of other beauty treatments by the pool, and with the use of herbs, roots, flowers and spices.
76-212 USD/day
DesaMuda Village
Often referred to as the perfect hideaway, DesaMuda has its villas nestled among luscious tropics, providing a feeling of oneness with nature amidst it Central Seminyak location.
When we speak of home, it follows that we also speak of good food– and it is what DesaMuda takes pride of. One can opt for fine dining from a wide variety of Indonesian and Continental Cuisine or chill out in their sunken bar.
100-282 USD/day
The Oberoi Resort Bali
Set in 15 acres of tropical gardens, Oberoi resembles a traditional Balinese Village. A five star luxury resort, it is located on the Legian beach, up market area of Seminyak. The luxury villas come with their own private courtyards and swimming pools, with a perfect view of the Indian Ocean. The surrounding streets are home to some of Bali's most popular restaurants and shopping arcades.
Other than first class hotel and resort services, Oberoi also offers outstanding recreational facilities, spa services, outdoor activities, entertainment amphitheatre and fine dining restaurants.
247-1071 USD/day

Where to go (Top Tourist Destinations)
Denpasar
Denpasar is the capital city of Bali. Contrary to the rural charm of its neighboring tropical resorts, Denpasar flourishes with urban sophistication— from shopping and entertainment to yes, traffic and pollution. It is home to museums that showcase colorful Balinese traditions and cultures. Regular dance festivals are also held, especially during the famous midyear Balinese Art Fest.
Gunung Batur
Gunung Batur is a major dormant volcano on the island of Bali. Lake Batur can be approached by trail or road and boated across.
Kuta Bay
Kuta Bay is in the south of Bali, about 10km (6mi) southwest of Denpasar. Nearby, to the north is Sanur, an upmarket alternative to Kuta; Nusa Dua, to the south, is an upmarket alternative to Sanur. Ulu Watu, on the southern tip of Bali, is the island's most famous surfing spot.
Bali Orchard Garden
Given Bali's tropical weather and volcanic soil, it is not a surprise for beautiful orchids to thrive well. in Bali Orchard Garden, one can see thousands of them in a variety of settings. The orchids are the major ones that give this tourist spot a tropical feel.
Gunung Kawi
Gunung Kawi, constructed along a river in the 11th century, is a complex of pavilions and rock-cut shrines carved into the hillside northeast of Ubud. It's a peaceful place, surrounded by rushing water and local farmers harvesting terraced rice paddies.
Tampaksiring
The temple of Tampaksiring. It is said that here, the giant Indra pierced the ground and made spout out the amrita or the elixir of immortality. The site includes the baths, the temple (restored in 1959) and a monastery.
Museum Le Mayeur
Museum Le Mayeur, where the Belgian Adrien Jean Le Mayeur once lived, contains many of his paintings. Unfortunately, many of the older pieces have not aged well but some of his later works remain in fine condition. Paintings on display come from his various travels around the world and many capture life in Bali in the 1940s and 50s. All paintings are labeled in both English and Indonesian. The museum itself proves to be a good example of Balinese architecture. Worth a quick visit, if you find yourself in Sanur.
Pura Ulun Danu Bratan
The Temple of the Lake Goddess at Bratan, in northern Bali, is one of Bali's most visited and most spiritually important temples. Dedicated to Dewi Danu, the goddess of the waters, it is the focus of numerous ceremonies and pilgrimages to ensure supplies of water. A temple sits on the shore of the lake, but visitors cannot enter it. It's the multitiered thatch-roof shrines, or meru, perched on tiny islands just offshore that are best known. The famous Gunung Batur volcano rises up in the distance. Also on-site are a children's playground and a restaurant featuring mostly Indonesian food. Off the Singaraja-Denpasar road, on the western shore of Danau Bratan.
Sacred Monkey Forest Sanctuary
At the end of Monkey Forest Road is the Mandala Wisata Wenara Wana, or Sacred Monkey Forest Sanctuary. True to its name, the sanctuary is home to three troupes of long-tailed Balinese Macaques, totaling about 200 monkeys. These forest denizens are always open to handouts of food from visitors, although it is far safer to avoid feeding them, as they can become quite aggressive once they know you have food.