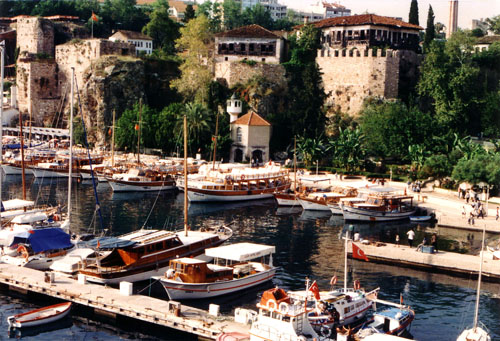 The harbor surrounded by Roman walls displays colorful fishing boats.
Antalya is a good base from which to explore the quieter beach towns and more spectacular ancient cities of the region. At the east of Antalya is Side, the increasingly popular beach town once chosen by Mark Anthony and Cleopatra for a romantic rendezvous. Alanya is another sea-sun-n-sand joint with a mini-Miami feel while a few hundred km south-west of Antalya is a party town named Patara.
Combining history and culture it deserves the title of "the capital of Turkish tourism". Today the city of Antalya is reliving a golden age. It has been transformed into a cultural and touristic hub with thematic hotels with concepts like Venice, Topkapi palace, Moscow cathedrals, etc… Kaleici, the rustic old town, where historic Turkish and Greek houses are under protection, is the most popular center in Antalya. It is situated between the yacht harbour and the main city. Old houses that are separated by narrow, cobble-stone roads are now hotels and tourism-related shops. Traces of Byzantine, Roman and Seljuks architecture and culture can still be seen. Take time to visit the archeological museum which houses the finds belonging to historic ages of Anatolia.
The climate in Antalya bears the Mediterranean climate features. The mild weather conditions offer holiday possibilities in all seasons. Sometimes you can experience in Kemer four seasons in one day. 300 days of the year are sunny.
Antalya Tourism Central