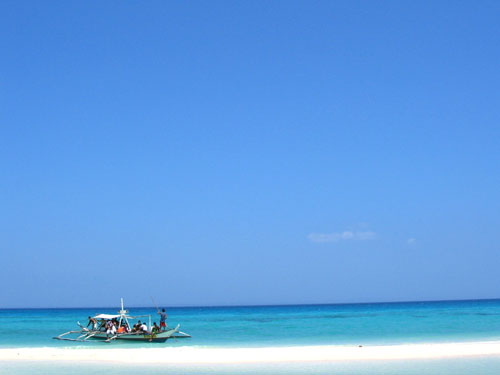 Philippines' hottest south shores destination lately could easily be Boracay Island which is at the Western part of the Visayas. But if you have quite enough of the mad crowd rushing to Boracay especially on summer and holidays — and all you wanted is your virginal white sands, peace and quiet — Bantayan Island, at the Northern Part of Cebu could be your best stop. A quiet paradise, Bantayan has yet to be explored to savor its finest surprises – not to mention, a rather cheap retreat from the dizzying urban life.
From the heart of Cebu, it's just an enjoyable three-hour ride to Hagnaya Wharf, where you can ride a barge or ferry going straight to Bantayan Island. That would take another one hour, but you should be beaming by then. Setting foot in Bantayan Island is utterly marvelous. The people are warm, the shores are white and fine, and the breeze is sweet of rural goodness. And how much does a one-way trip cost? Around 200 bucks only.
Scouting for the perfect resort in Bantayan would be easy; literally, you can just ask around once there. Everything's just a tricycle ride away. But if you're not the adventurous type and would prefer a well-planned retreat, you might want to check for reservations at Ogtong Beach Resort, Sugar Beach Resort, and Marlin's Beach Resort.
The three boasts of fine scenery and cool clean beach fronts. You can simply unpack and hit the sands and the waters… sprawl and sun bask or head straight to the waters and have a glorious dip of nature's best-kept secrets. Ogtong Beach in particular also has the Ogtong Cave, which has been frequented by tourists and locales alike.
Pack your suntan lotion, some bikinis, don't forget your camera — and off you go to the next best stop, Bantayan Island!