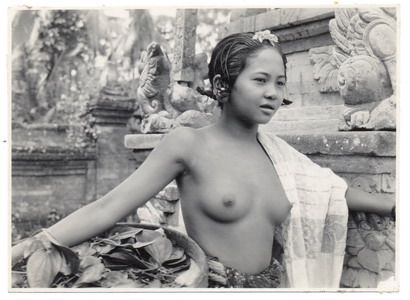 Bali, the island paradise of Indonesia is famous for its rich Balinese culture, tropical rainforests and warm people. Nestled just below the equator, Bali is gifted with a tropical weather—It has a hot, wet season from November to March and a cool, dry one from May to September. Notable are its bunch of dormant and active Volcanoes that are responsible for hot springs (main attraction in spa resorts) and cold, free-flowing lakes (irrigates rice fields and terraces).

People
Balinese living is a colorful mixture of culture, arts, religion, language and strict adherence to caste system.
The latter, despite being the center of age-old controversy and stories of struggle, had somehow blessed the Balinese an organized, systematic and well-governed life.
Theirs is a life integrated with customs, rituals, discipline and tradition.

Geography
First of the Sunda Islands, Bali lies east of Java, on the central part of Indonesian Archipelago. It has an area of more than 5000 square kilometers, composed mainly of fertile agricultural lands and mountain ranges of mostly active volcanoes.
Beaches
Amed and Tulamben
Probably the most beautiful diving and snorkeling site in the island, Amed and Tulamben is an hour and a half boat ride away from Badung in Padang Bay.
Benoa
Home of the Bali International Yacht Club, Benoa can be reached mostly by cruise ships that are regularly stationed at the fishing villages of Nusa Dua.
Jimbaran Beach
Famous for its secret seafood sauce, Jimbaran's seafood restaurant has been the resort's main attraction.
Geger Beach
Just a 5-minute boat ride from Nusa Dua, it is often referred to as "the hidden paradise."
Nusa Dua Beach
Referring to a hindu term that means "two islands," Nusa Dua is just a 20 minute drive from the Ngura Rai International Airport.
Kedonganan Beach
Only 3 kilometers south of Ngurah Rai International Airport, Kedonganan Beach is where tourists frequently head straight to. It has Jukungs (traditonal fishing boats) and fish markets all over, giving the place a traditional Balinese feel.
Kuta Beach Bali
The center of Bali life, Kuta is once rumored to have been a sanctuary of magicians and lepers.
Medewi Beach
Perfect for surfing, Medewi has stony beaches and rolling waves. Located 72 kilometers west of Denpasar, the area was once a thorny forest called Alas Meduwi.
Nusa Lembongan
Day trippers' usual destination, Nusa Lembongan can be reached through a 1-2 hour boat ride from Badung Strait.
Sanur Beach
Once a sleepy village where fishermen parade with canoes, Sanur has now become an elite, world-class resort.
Yeh Saneh Singaraja
Less known but still at par, Yeh Saneh, east coast's pride, is a god of two things: salt-water surfing and freshwater spring pools.
Nyang Nyang Beach
Also a favorite surfing destination, Nyang Nyang is located north of Uluwatu temple, facing the Indian Ocean.
Tanjung Benoa
An extension of Nusa Dua Resort, Tanjung Benoa is a great place for water recreation and sports such as parasailing, snorkeling and glass bottom boating.
Events and Attractions
Bali Bird Park
Set in two hectares of tropical gardens, the Taman Burung Aviary is home to more than 250 bird species from Indonesia and all over the world.
Indonesia Jaya Reptile Park
The pride of Mengwi, this 2-hectare reptile park houses the famous Komodo dragon among others. The park also showcases crocodile shows and dances.
River Ayung Rafting
Because of its challenging rapids and wildforest-like environment, white water rafting in Ayung river has since been a hit.
Deluang Sari Turtle Farm
Located next to Tanjung Benoa, Deluang Sari Turtle Farm is geared towards saving gree turtles from extinction.
Mekepung (Buffalo Races)
Usually done as highlights for harvest festivals, the Mekepung is a 2-kilometer cart race of water buffaloes.
Trunyan
Presently bearing the remnants of the Pura Pancering Jagat temple, it is said that Trunyan is also the place where an ancient incense-scent tree stood.
Lakes and Mountains

Batur
It is where the Pura Ulun Danu temple was built following a volcanic eruption in 1926.
Kintamani
Blessed with a cool climate that perfect for growing oranges and passion fruits, Kintamani rests on a 1500-meter high ridge.
Mt. Batukaru
Also known as the sacred "coconut shell" mountain, it strongly influences local spiritual beliefs. In fact, shrines in honor to the spirit of Mt. Batukaru can be seen in many Balinese temples.
Ricefields and Waterfalls
Bukit Jambul
Bukit Jambul is the favorie stopover on the way to Mt. Batur. It offers enchanting scenery from hilltop, overlooking Bali ricefields and beaches.
Jatiluwih
Located 850 meters above sea level, this ricefield village is 20 kilometers away from Tabanan. Jatiluwih is one of Bali's most magnificent and widest rice paddy field.
Tanah Wuuk
Off the main road, Tana Wuuk is a private and secluded river valley located just 2 kilometers north of the Holy Monkey forest.
Gitgit Waterfalls
Bali's highest waterfall, it is located on the southern part of Singaraja. This enchanting scenery is every photographer's guilty pleasure.
Nungnung Waterfall
It is a 50-meter high waterfall situated at the heart of a 900-meter highland, in a small village tha is 40 kilometers north of the capital city, Denpasar.
Must Knows
Bank
Banking hours is from 8am-2pm, Mondays to Fridays. Moneychangers are open everyday for morning to late evening.
Consulates
Australia
JL. Prof. Moch. Yamin 51, Renon, Denpasar, Phone 235092, 235093, fax: 231990.
The Australian consul in Denpasar also represents citizens of Canada, New Zealand, and Papua New Guinea. Japan also has full consular services here. All others are consular agents or honorary consuls.
British (Honorary)
JI. Merta Sari 2, Sanur Phone 270601, fax: 270572.
Czech Republic (Honorary)
JI. Pengembak 17, Sanur Phone 286465, fax: 286408.
France
Jl. Raya Sesetan 461, Phone 287383, fax: 287383.
Germany (Honorary)
Jl. Pantai Karang 17, Sanur, Phone 288535, fax: 288626.
Italy (Honorary)
J1. Bypass Jimbaran, Phone 701005. Japan JI. Raya Puputan Renon 170, Denpasar, Phone 227628, fax: 231308.
Mexico
Astina Tour, Jl. Moh. Yamin 1A, PO Box 150, Denpasar, Phone 223552, fax: 244568.
Netherlands
KCB Tours, JI. Raya Imam Bonjol 599, Phone 751517, fax: 752777.
Norway & Denmark
JI. Jaya Giri Vill/10, Denpasar, Phone 235098, fax: 234834
Sweden & Finland
Segara Village Hotel, JI. Segara, Sanur, Phone 288407, fax: 287242.
Switzerland
Swiss Restaurant, JI. Pura Bagus Teruna (JI. Rum Jungle), Legian, Phone 751735, fax: 754457.
United States of America
Jl. Hayam Wuruk 188, Phone 233605, fax: 222426.
Goverment and Tourism
BALI GOVERNMENT TOURIST INFORMATION CENTRE
Jl.Bana Sari No.7 Legian Kuta, Denpasar – Bali
Phone : 754 092
TOURISM DEPARTEMENT
Jl.Raya Puputan Renon, Denpasar – Bali
Phone : 225 649
BADUNG GOVERNMENT TOURISM OFFICE
Jl.S.Parman Renon, Denpasar – Bali
Phone : 222 387
KLUNGKUNG GOVERNMENT TOURISM OFFICE
Jl.Surapati No.3 Semarapura Bali, Indonesia
Phone : 21 448
BULELENG GOVERNMENT TOURISM OFFICE
Jl.Veteran No.23 Singaraja Bali, Indonesia
Phone : 61 141
JEMBRANA GOVERNMENT TOURISM OFFICE
Jl.Dr.Setia Budi No.1 Negara Bali, Indonesia
Phone : 41 060
TABANAN GOVERNMENT TOURISM OFFICE
Jl.Gunung Agung, Tabanan Bali, Indonesia
Phone : 91 602
GIANYAR GOVERNMENT TOURISM OFFICE
Jl.Ngurah Rai No.21 Gianyar Bali, Indonesia
Phone : 93 401
KARANGASEM GOVERNMENT TOURISM OFFICE
Jl.Ngurah Rai Karangasem Bali, Indonesia
Phone : 21 002/3
BANGLI GOVERNMENT TOURISM OFFICE
Jl.Brigjen Ngurah Rai Bangli Bali, Indonesia
Phone : 91 537
KODYA GOVERNMENT TOURISM OFFICE
Jl.Surapati No.7 Denpasar Bali, Indonesia
Phone : 223 602
IMMIGRATION OFFICES
IMMIGRATION CENTRAL OFFICE
Jl.D.I.Panjaitan – Niti Mandala Renon Denpasar Bali.
Phone : 227 828
IMMIGRATION NGURAH RAI AIRPORT
Jl.Ngurah Rai – Tuban Denpasar Bali.
Phone : 751 038
POST OFFICES
DENPASAR MAIN POST OFFICE
Jl. Raya Puputan Renon – Denpasar Bali
Phone : 223 565
KUTA POST OFFICE
Jl. Raya Tuban – Kuta Bali
Phone : –
SANUR POST OFFICE
Jl. Danau Buyan – Sanur Bali
Phone : 754 012
UBUD POST OFFICE
Jl. Jembawan No.1 – Ubud Bali
Health Care
HOSPITAL
SANGLAH PUBLIC HOSPITAL
Jl. Kesehatan, Denpasar – Bali
Phone : 227 911
WANGAYA PUBLIC HOSPITAL
Jl. Kartini No.20 Denpasar – Bali
Phone : 222 141
KASIH IBU HOSPITAL
Jl. Teuku Umar No.120 Denpasar – Bali
Phone : 223 036
DHARMA USHADA HOSPITAL
Jl. P.B.Sudirman, Denpasar – Bali
Phone : 227 560
PURI RAHARJA HOSPITAL
Jl. W.R.Supratman No.14 Denpasar – Bali
Phone : 222 013
CLINICS
GITA MEDIKA CLINIC
Jl. Pura Bagus Taruna 517A, Legian Kaja – Bali
Phone : 62-361-761136
KUTA CLINIC
Jl. Raya Kuta No.100X Denpasar – Bali
Phone : 753 268
U B U D CLINIC (24 hr)
Jl. Ubud, Campuhan Ubud – Bali
Phone : 974 911
NUSA DUA MEDICAL SERVICE (24 hr)
Jl. Grand Hyatt Hotel, Nusa Dua – Bali
Phone : 772 392
DENTIST
NUSA DUA DENTAL CLINIC
Jl. Pratama No.81A Nusa Dua – Bali
Phone : 771 324

AIRLINES
Delta Air
Merpati
British Airways
Qantas
Singapore Airlines
Thai Air
Continental Airlines
Air New Zealand
Ansett
Cathay Pacific
Royal Brunei Airlines
Bouraq Indonesia
China Airlines
Air France
BALI HOTELS
Buleleng
• Jepun Bali Resort
• Pondok Sari Beach
• Puri Ganesha Villas
• Taman Sari Cottag
Candi Dasa
• Alila Manggis
• Amankila
• Candi Beach Cottages
• Coral View Villas
• Fajar Candidasa Beach
• Hidden Paradise Cottages
• Kubu Bali Resort
• Nihiwatu Hotel
• Nirwana Cottages
• Puri Bagus Candidasa
• Puri Bagus Manggis
• Rama Candidasa
Gianyar
• Bali Masari Villas
• Gubah Bali Exclusive Villa
• Lor-in Villa Resort
Gilimanuk
• Mimpi Resort Menjangan
Jimbaran
• Bali InterContinental
• Blue Point Bay Villas
• Four Season Jimbaran
• Jimbaran Puri Bali
• Keraton Resort
• Puri Bambu
• Ritz-carlton
• Sari Segara Resort
• Udayana Lodge
Kuta
• Adhi Dharma Cottages
• Aneka Hotel
• Bakung Sari Hotel
• Bakung`S Beach
• Bali Agung Village
• Bali Ayu Hotel
• Bali Dynasty Resort
• Bali Garden Hotel
• Bali Mandira Hotel
• Bali Rani Hotel
• Balihai Resort And Spa
• Barong Kuta
• Bounty
• Casa Padma & Suites
• Cempaka Belimbing
• Dewi Sri Cottage
• Dhyana Pura
• Discovery Kartika Plaza
• Fourteen Roses
• Grand Preanger
• Green Garden
• Green Garden Resort
• Hard Rock Bali
• Harris Hotel Bali
• Inna
• Karthi
• Kuta Beach Club
• Kuta Paradiso
• Kuta Seaview Cottage
• Melasti Beach Bungalows
• Melasti Beach Resort
• Mercure Kuta
• Rama Beach Cottages
• Rama Beach Resort
• Rama Garden
• Ramada Bintang Bali
• Ramayana Resort & Spa
• Restu Bali
• Risata Bali Resort & Spa
• Santika Beach
• The Oasis Kuta
• The Sandi Phala
• Vilarisi
• White Rose
• Wina Hotel
Legian – Seminyak
• Adhi Dharma Hotel
• Agung Raka Bungalow
• Akhyati Villas & Spa
• Alu
• Alam Kulkul
• Amanda Resort
• Balisani Padma
• Court Yard & Apartments
• Grand Balisani Suites
• Legian Beach
• Legian Hotel
• Legian Village
• Oberoi
• Oberoi Bali Resort
• Opal Legian
• Padma
• Paradise Seminyak Hotel
• Paradiso – Legian
• Pelangi Bali
• Puri Madawi
• Putu Bali Villa & Spa
• Resor Seminyak Resort
• Saphir Mabisa Inn
• Sienna Villas
• Sofitel Seminyak
• Taman Rosani
• The Dusun
• Tugu Hotel
• Vila Lumbung
Lovina
• Aditya Bungalow
• Aneka Bagus Hotel
• Aneka Lovina Hotel
• Bali Taman Beach Resort
• Damai Lovina Villas
• Puri Bagus Lovina Resort
• Sol Lovina Villa
Nusa Dua
• Amanusa
• Aston Bali Resort
• Bali Hilton International
• Bali Reef Resort
• Bali Royal Suites
• Bali Tropik
• Club Mirage
• Conrad Bali Resort
• Grand Hyatt Bali
• Grand Mirage Resort
• Inna Putri
• Kayumanis Villa & Spa
• Kind Villa Bintang
• Melia Bali Resort
• Melia Benoa
• Nikko Resort And Spa
• Novotel Coralia Benoa
• Nusa Dua Beach Hotel
• Patmase
• Puri Benoa Suites
• Puri Tanjung
• Ramada Resort Benoa
• Sekar Nusa Resort
• Sheraton Laguna
• Swiss-belhotel Bali Aga
• The Bale
• Villa Bintang
• Westin
Nusa Lembongan
• Nusa Lembongan Resort
• Waka Nusa
Sanur
• Ari Putri Hotel
• Bali Hyatt
• Griya Santrian
• Inna Grand Bali Beach
• Inna Sindhu Beach
• La Taverna
• Mentari Sanur
• Mercure Sanur
• Natour Sindhu Beach
• Parigata Resort & Spa
• Parigata Villas
• Pavilions
• Puri Kelapa Garden
• Puri Santrian Resort
• Rama Villas
• Sanur Beach
• Sanur Paradise Plaza
• Sari Sanur Resort
• Sativa Sanur Cottages
• Segara Village
• Sri Phala Resort & Villa
• Swastika Bungalow
• Tamukami
• Waka Maya
Tabanan
• Le Meridien Nirwana
• Matahari Beach Resort
• Pacung Mountain Resort
• Sanda Butik Villas
• Uluwatu Resort
• Waka Gangga
Tulamben
• Mimpi Resort Tulamben
Ubud
• Adhi Jaya Hotel
• Alila Ubud
• Amandari
• Ananda Cottage
• Arma Resort
• Bagus Jati
• Barong Resort & Spa
• Bunga Permai Hotel
• Cahaya Dewata Resort
• Champlung Sari
• Four Season Sayan
• Graha Resort
• Ibah
• Kakiang Bungalows
• Kamandalu Resort & Spa
• Komaneka Resort & Suite
• Kori Ubud Resort & Spa
• Manohara
• Maya Ubud
• Pertiwi Resorts And Spa
• Pita Maha Resort & Spa
• Puri Bunga Village
• Puri Saraswati Bungalows
• Puri Wulandari
• Sacred Mountain
• Sahadewa Resort
• Santi Mandala Resort
• Taman Bebek Villa
• Taman Harum
• Taman Sakti Resort
• Tjampuhan
• Ubud Hanging Gardens
• Ulun Ubud Resort & Spa
• Uma Ubud
• Villa Cempaka
• Villa Sonia
• Waka Di Uma
• Waka Namya
BALI VILLAS
Canggu
• Villa Baba
• Villa Dadi
• Villa Erika
• Villa Kakul
• Villa Kenery
• Villa Teresa
• Villa Umah di Beji
Jimbaran
• Villa Hanani
• Villa Phiantiana
• Villa Puri Alam Sari
• Villa Puri Bali
Kerobokan
• Villa Bali Bali
• Villa Banyan
• Villa Bunga Desa
• Villa Come Back
• Villa David
• Villa Dewi
• Villa Liamika
• Villa Maharaj
• Vila Sorga
• Villa Umalas
• Villa Wilsana
Legian
• Puri Bunga Indah
• Villa De Daun
Nusa Dua
• Wantilan Golf Villa
Ubud
• Puri Taman Bayu
Uluwatu
• The Istana