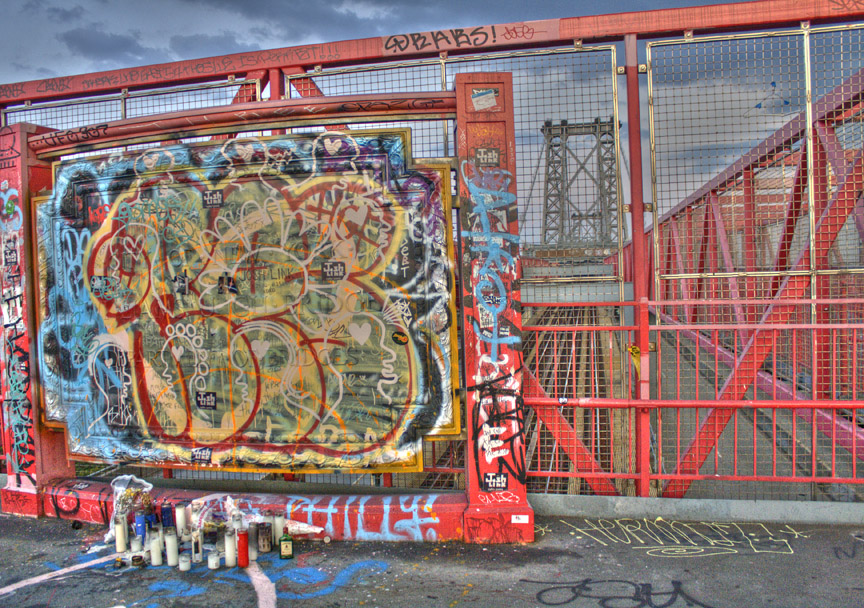 –Eric Van Buskirk (Photo was taken 2009)–
This is a "memorial" for Josh Link. He was a widely known, young, responsible, and very much liked music DJ at the hottest clubs town.  Josh was hit by a car while riding (with helmet) a scooter in the last week of August 2009.
The print of this is unique because the colors have super luminosity.  I'm using a new ground-technique that's turned the photo world upside down: High dynamic range imaging (HDR).  This is a great example of when it produces great results. 1/2 the photos on Flickr are from people using HDR.  But too many people overdo it, creating a cartoonish effect.  Sometimes that effect works when something is abstract, but otherwise, it's just silly.
With HDR,  3 photos are taken and it merges data from 3 different exposure levels: dark, normal, and light.  It basically makes the "data" of the image 3X greater, and captures some things in a way traditional film can not.  Grafiti and sharp colors with small variations like all the red work especially well.  Some people claim HDR is as big a change as when photo's went from black and white to color.  That's too dramatic a statement.  But it really it has turned the photo world upside down– both for good AND bad.  The technique originated in Hollywood when used for digital movie work.
The Graffiti covers a plaque on the Manhattan side of the bridge, looking toward Brooklyn.