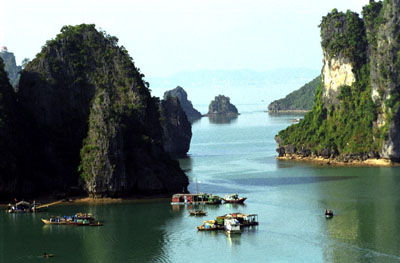 Vinh Ha Long, which means "Bay of the Descending Dragon" in the Vietnamese language, is one of the country's most popular tourist destinations. The bay consists of a dense cluster of 1,969 limestone monolithic islands. Each island is topped with thick jungle vegetation that rise spectacularly from the ocean, as viewed on this page.
Many of the islands have acquired their names as a result of interpretation of their unusual shapes such as Voi Islet (elephant), Ga Choi Islet (fighting cock) and Mai Nha Islet (roof).
The emerald-green bay is very inviting… very warm and just great for a dip.