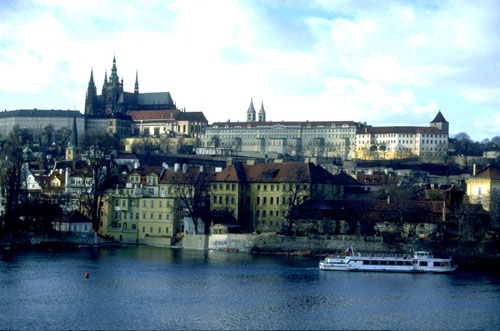 Prague is a wonderful city to visit. It has many well-preserved medieval attractions and a slightly exotic Eastern European flavor. Across this river bank is Prague Castle – a sprawling complex situated atop a large hill. Portions of the castle were built in different styles, and it spreads out more horizontally than vertically.
Prague Castle is supposedly the biggest unified castle complex in the world. Inside the castle are many sights and attractions. The main feature is a 14th century Gothic structure. The St. Vitus cathedral is adorned with fascinating gargoyles, very elaborate tombs and a lot of Czech history. It is possible and worthwhile to climb to the top of the bell tower – the highest point inside the castle that gives you fabulous views of the castle and old town Prague.
The castle also has a convent, palace, prison, royal gardens and a cool little street called the Golden Lane, where various famous people such as Franz Kafka have lived in this colorful dollhouse-like cottages.