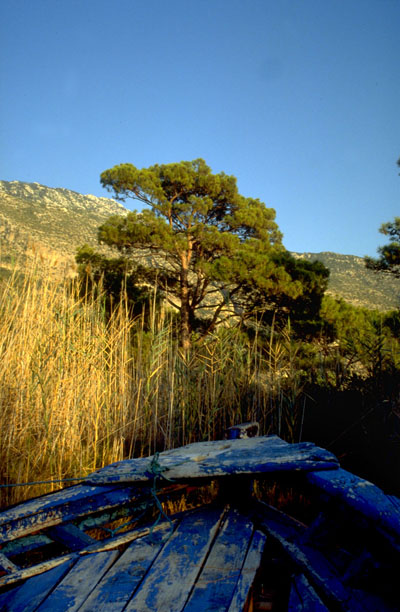 The beautiful lagoon is famous for its foamy dark blue water of the Mediterranean. Ölüdeniz  means 'dead' or 'calm sea' and the blue lagoon certainly is clear and calm here. Yachts are not allowed to sail into the lagoon so it is a wonderful place to have a swim or simply sunbath on the beach (in my case, the boat deck).
The lagoon is fairly shallow and very warm – safe for kids and for those that don't like bathing in deep water. Watching the sunset on the island is the end to a perfect day.
The enchanting Ölüdeniz takes its name from a Turkish legend. In Medieval times, many Greek-bound Syrian and Egyptian ships used to pass by Ölüdeniz and take on board fresh water. One day the handsome son of an old sea captain met a beautiful young girl named Belcekiz at the bay where he stopped to fetch water. The two fell in love at first sight and thereafter, would meet whenever the young man's ship passed by.
One day the father and son were caught in a terrible storm at sea. The son, knowing the area well, suggested they take shelter in the calm, protected waters of the inlet at Ölüdeniz, but the old captain objected, believing that his son might be endangering the ship just to meet his beloved.
Their disagreement turned into a violent quarrel, and when the captain thought his ship was about to be dashed on the rocks he shoved his son into the sea with his oar. Finally, he saw the calm waters of the inlet in front of them but it was by then of course too late. Belcekiz, on hearing of her lover's death, threw herself into the sea and also drowned. The place where she died is called Belcekiz, and the inlet that became her lover's watery grave is called Ölüdeniz.