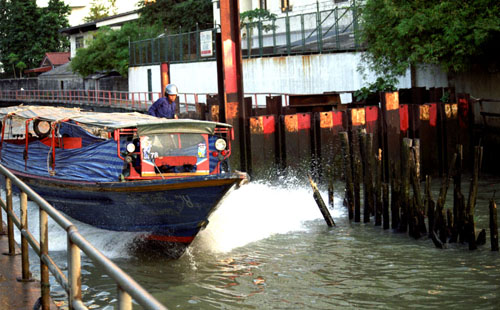 Take a boat trip along remaining canals, known as khlongs. You'll get an insight into how people live on the riverbank and see the city from water level. It's an incredible contrast from the commercial center.
The khlongs have mainly disappeared and only a few narrow dirty sort of sewers are left. On the canals, you'll get to see friendly Thai people waving to you from their houses on the water. The khlongs were used for transportation and for floating markets, but also for sewage. For health reasons now most of the khlongs of Bangkok have been filled in and converted to streets, although the Thonburi side of Bangkok (covering areas west of Chao Phraya River) still retains several of its larger khlongs. The traditional floating markets now exist mainly as tourist attractions, the most famous one at Damnoen Saduak in the Ratchaburi province.
There are still areas in Thonburi (in the west of Bangkok), where you can get an impression of how Bangkok used to be a hundred years ago. Khlong-tours by boat are offered at the piers near Wat Pho and the Grand Palace. They normally enter the khlongs at Khlong Bangkok Noi where the Barge Museum is located. There is a stop there and a few other stops at places that are not so exciting, like a snake farm (a rather poor enterprise).