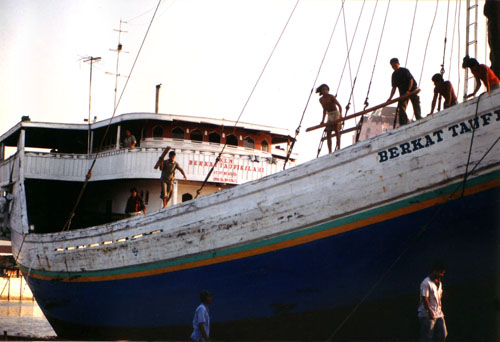 These voyagers should make a few hours for a picturesque scene at Sunda Kelapa, better known as Pasar Ikan (meaning fish market). The 800-year-port still handles tall masted Bugis schooners, devoted to transport timber and a variety of commodities such as cement centuries ago. Sunda Kelapa is at present a fisherman's wharf and an inter-island port.
The old port of Sunda Kelapa has been continually used for centuries and today, it still plays an important role for the local fishermen and for inter-island trade. In particular, you can still find several Bugis phinisi schooners from South Sulawesi anchors by the wharf. These all-wooden tall-masted ships are still used to sail the seas between islands as they did centuries ago.
The Maritime Museum (Museum Bahari) situated at the harbour is also worth a visit.
Sunda Kelapa, also known as Pasar Ikan (Fish Market), is located in the far north of the city at the mouth of the Ciliwung river. This is where the Portuguese traded with the Hindu King dom of Pajajaran in the early 16th century. The fish catch of the day was auctioned in the early morning at the old fish market. The street leading to it was lined with shops selling all sort of shells, dehydrated turtles, lobsters and everything else the seafarer might need.
Dutch domination of Jakarta and the rest of Indonesia began from this area, and the remnants of Kasteel Batavia, an old fort and trading post of the Dutch East Indies Company, can still be seen. Sunda Kelapa is at present fisherman's wharf and in inter-island port. Tall masted Bugis schooners from South Sulawesi anchoring there offer one of the finest sights Jakarta has to offer. They belong to one of the last fleets of sail boats in the world and still ply the seas between the islands, as they did centuries ago, carrying merchandise.